EXCELLENT HIGH QUALITY:dupioni silk 54" width silk rich color diamond pintuck design ~extremely difficult to make.This would sell in stores / designers for at least usd$ 75 a yard[excellent look and feel]-looks better than pictures,we are direct manufacturers of these pintuck. heavy weight wild silk with crisp texture and beautiful sheen. Dupion silk has an irregular weave with tiny nubs showing. It is sometimes confused with 'shantung' or 'raw silk' which is usually lighter in weight and has a finer weave than dupion. Dupion is used extensively by many of the top bridal designers and manufacturers."Please be aware that silk is a natural product and, therefore, will always have a small amount of natural flaws, therefore, particularly for dress making, it is always advisable to order a little bit more than you actually need. We give this information in good faith as we would like all our customers to be happy with their projects".
AMAZING FOR JACKETS /BED SPREADS DUVET COVERS UPHOLSTRY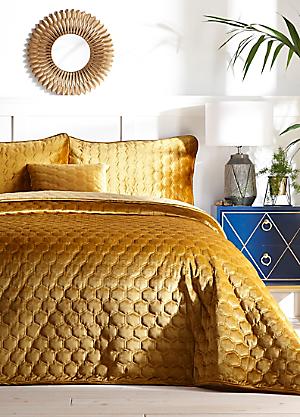 BACK AND FRONT OF FABRIC
Dupioni silk diamond pintuck design QUILTED gold 54"
Product Code: GOLD DUP QUILTED PINTICKS
Availability: In Stock